Alabama posts 19 self-reported violations for 2015-16 calendar year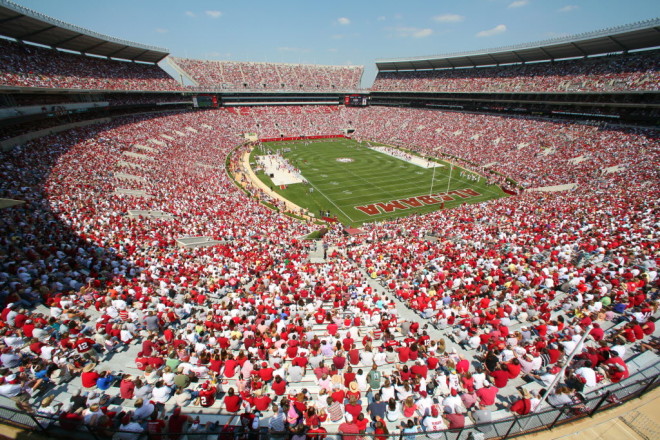 The University of Alabama athletic department self reported 19 "levels 3 and 4 violations" to the NCAA during the 2015-16 academic calendar year, the school posted on its website Sunday evening.
The violations encompass 11 sports, including five against the football program, ranging from a former student-athlete providing free training to a current student-athlete, coaches having impermissible communication with prospective student-athletes including phone calls and text messages, and one incident where "a trophy was temporarily placed in an area where prospects taking an official visit would be, which resulted in an impermissible recruiting decoration of that area."
The corrective action for the impermissible contact between members of the football staff and a prospective student-athlete called for the involved coach being prohibited from making recruiting calls for two weeks, no calls, recruiting materials, or electronic communication sent to the involved prospect for 30 days.
The incident involving a trophy being used as an "impermissible recruiting decoration" called for declaring the prospects involved ineligible until reinstated by NCAA.
The gymnastics program self-reported two violations as did men's basketball and soccer.
The corrective actions involved among all 19 violations included the athletic department providing additional rules education, restitution being paid back by involved student-athletes, limiting contact with prospective student-athletes and, in some cases, letters of admonishments for coaches (men's basketball, gymnastics, soccer, director of CTP, women's golf, and rowing).
The report did not provide if the violations were committed by head coaches or assistant coaches.

Reach Aaron Suttles at aaron@tidesports.com or at 205-722-0229.