Bo Davis to leave his position due to allegation of recruiting violations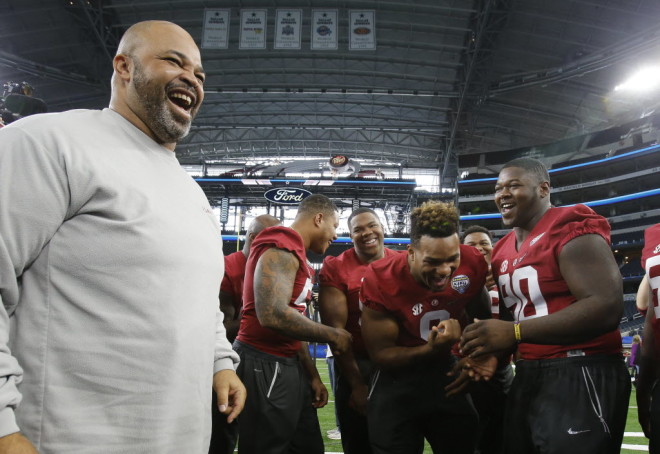 Updated: 11:30 a.m.
Statement from UA head coach Nick Saban
"Bo Davis has submitted his letter of resignation. We appreciate all the contributions he made to the program and wish him and his family the very best in the future."
Original report
Bo Davis is expected to leave his position as assistant football coach at the University of Alabama over an inquiry into possible recruiting violations, The Tuscaloosa News has learned. Davis is expected to resign or be fired from his job.

UA has been conducting an internal investigation and the NCAA has also made inquiries into the matter.
Davis' contract at Alabama runs through 2017 at a salary of $475,000 per year after receiving a one-year extension and a $25,000-per-year raise last June.
Davis became part of head coach Nick Saban's original coaching staff at Alabama when he was hired in 2007 as defensive line coach. He stayed through 2010 before leaving for the same position at Texas, where he stayed for three seasons. He returned to UA in 2014 in the same capacity to help lead one of the best defensive lines in the country, highlighted by a stellar 2015 unit. He also coached with Saban in 2006 as an assistant defensive line coach and assistant strength and conditioning coach with the Miami Dolphins of the National Football League.
When asked about Davis' influence on the defensive line in mid-November, Saban gave him high praise.
"Bo does a really good job," Saban said. "He's a really good coach, he's got a good relationship with his players, he does a good job motivating the guys. And each one of those guys has played better each year they've been here, each year he's worked with them. And we've got some guys that have been playing for awhile and they're really playing well so far this year. Hope they can keep improving and keep playing and keep having an impact on the game."
Da'Shawn Hand, who was the No. 1 player in the country coming out of high school in the class of 2014, recently spoke highly of Davis, too.
"Coach Bo is amazing," said during spring practice. "He demands the best out of you every single day. I love that man."
This story will be updated as more information becomes available...