Goff expected to be named Alabama baseball coach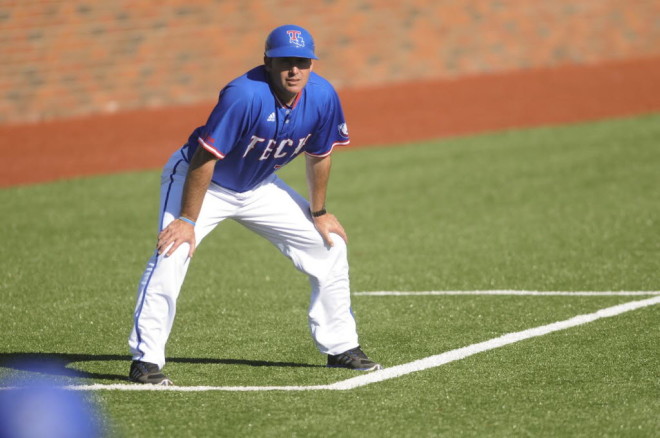 Greg Goff is expected to be named the University of Alabama's new head baseball coach, The Tuscaloosa News has learned. He's expected to sign an agreement with the school as soon as Thursday night and be introduced on Friday.
Goff arrives at Alabama after two years as head coach at Louisiana Tech. He led the Bulldogs to a 42-20 record this season and an NCAA regional berth, where they were defeated in the regional final by host Mississippi State.
He has posted a 67-47 record in his two seasons in Ruston, combining this year with a 25-27 debut in 2015. The Bulldogs hadn't made the NCAA tournament since 1987 before this season.
Louisiana Tech athletics officials did not respond to repeated requests for comment from The Tuscaloosa News on Thursday, but associate athletics director Malcolm Butler released a statement on Thursday night.
"It is not our policy to comment directly on coaching searches and it's not our place to comment on the speculation of the Alabama search," Butler said. "At this time Greg Goff is still Louisiana Tech's baseball coach."
Goff was among three finalists for the job. Tulane head coach David Pierce and East Carolina's Cliff Godwin were the other two.
He takes over for Mitch Gaspard, who resigned at the end of the season after the Crimson Tide missed the NCAA tournament for the second straight year. Alabama went 32-26 in 2016 during its inaugural season in the rebuilt Sewell-Thomas Stadium, which completed a $42 million renovation.
Before moving to Louisiana Tech, Goff had been head coach at Campbell University in North Carolina, where he oversaw the most successful period in Campbell's history. The Fighting Camels struggled in his first four seasons in the Atlantic Sun program but won at least 40 games in each of his last three seasons after moving to the Big South Conference.
Campbell had only posted two seasons over .500 in the 19 seasons before Goff took over. The program had never won 40 games in a season before his time there, but Goff did it in three straight years. Campbell went 41-18, 49-10 and 41-21 from 2012-14 and made the NCAA tournament in 2014.
Campbell also won the conference tournament that season. Campbell had gone 11-45 before Goff's first season, the worst season in program history. It improved to 21 wins in Goff's first year, then 27 and 28 wins in the next two years.
He also has experience in the state of Alabama. Goff's first head coaching job was at Division II Montevallo from 2004-07. He led the Falcons to the Division II College World Series in 2006 and an NCAA tournament berth in 2007, the program's only two appearances in the tournament. Montevallo went 152-84 during his tenure, including a school-record 47 wins in 2007
His overall record across 13 seasons as a head coach is 448-307. Goff was pitching coach at Kentucky from 1999-03. His was pitching coach at Southeast Missouri State from 1998-99 and started his coaching career at Delta State after finishing his playing career there.
Reach Ben Jones at ben@tidesports.com or 205-722-0196.