Tony Brown facing indefinite NCAA suspension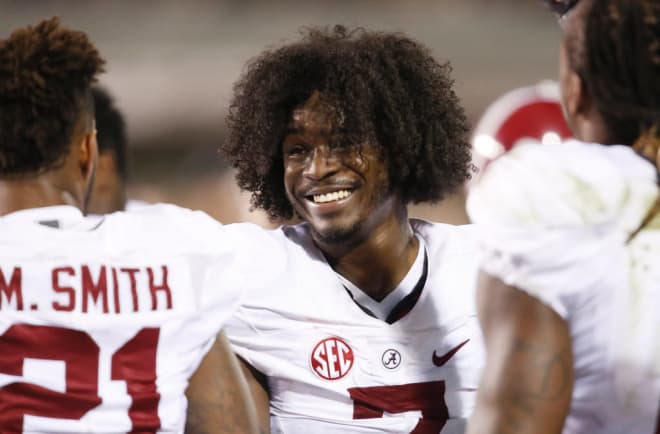 University of Alabama defensive back Tony Brown is facing an indefinite suspension from the NCAA, TideSports.com has learned.
The university has appealed and is awaiting a decision.
The suspension does not involve any institutional rules violations.
UA coach Nick Saban acknowledged Brown was "facing suspensions" during the veteran coach's introductory spring press conference in March.
"When I get the final data on that I'll definitely let you know," Saban said.
Brown, a junior-to-be for the 2016 season, has participated in all eight of Alabama's spring practices, including Saturday's scrimmage.
The 6-foot, 195-pounder for Beaumont, Texas, has played in 26 career games, totaling 26 tackles, including two tackles for loss, during his two seasons at Alabama.
Brown was sent home the day before the Cotton Bowl in December for an undisclosed violation of team rules. He did not travel with the team to Arizona for the national championship game in January.
"We have made an internal decision to send Tony Brown home due to a violation of team rules," Saban said at the time in a released statement.
A few weeks later at the Senior Bowl in Mobile, Saban said Brown was back with the team "right now but he is facing some future suspensions."
Brown arrived in Tuscaloosa as a five-star recruit, an early enrollee in UA's 2014 class. He was arrested in January 2014 on charges of failure to obey and resisting arrest.
Those charges were questioned by eyewitnesses who said Brown had done nothing wrong, and Saban even hinted that the charges may have been a bit overblown.
"Look, some people are in the wrong place at the wrong time," Saban said at the time. "Some people don't make good decisions about what they do, what they say. Tony Brown's a fine young man, we're glad to have him in the program. We'll certainly try to use this as a learning experience for him.
"The punishment he receives will be so that he learns not to do something like this in a disrespectful way to somebody in a position of authority who is there to protect us all, which is our police. We're going to get him to learn from this."
Brown is competing for an expanded role in the secondary. He has worked at cornerback, nickel back and safety during his time with the team. He's also a valuable special teams player, including a gunner on punt coverage.

Reach Aaron Suttles at aaron@tidesports.com or at 205-722-0229.